Have you ever picked up a book, read it for a few days, put it down for a few weeks, then picked it up again and read it for a few more days before repeating this cycle? Well, that's the history of my attempts at reading J. R. R. Tolkien's The Return of the Shadow, one of the History of Middle-Earth series that was edited and formed by Tolkien's son, Christopher Tolkien. And that's not a criticism of the novel or its contents, but rather a commentary on what one needs to be prepared for when picking up this book and reading it. This is not a book that is for the timid reader or the passive reader. The Return of the Shadow is the type of book that you need to actively read – similar to how a collegiate English Literature student would read a novel in preparation for creating a critical analysis of the material. I admit that when I started reading this book, I was not ready for that level of active participation in what was in front of me. In fact, I stopped and started this book over the course of several years, but finished the last 168 pages just recently in the last few days.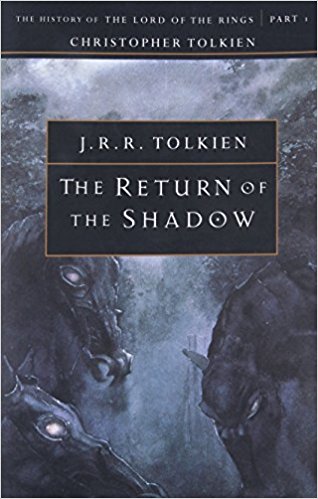 Putting my own, initially incorrect approach to reading this book aside, if you are looking for a deep, highly detailed dive into the formation of Tolkien's Middle-Earth, then this is it. The Return of the Shadow brings you to the very first drafts of The Lord of the Rings – to a world where the familiar foursome of hobbits that are the stars of the trilogy are not Frodo, Sam, Merry, and Pippin. Instead, the reader is treated to Faramond, Frodo, Merry, Odo, Folco, and a host of other hobbits that never made their way into starring roles in the final trilogy. The Return of the Shadow also takes its readers into the thought process behind Tolkien's creation of iconic characters like Treebeard and Strider. Would you believe that in their first incarnations these well-known players in The Lord of the Rings were much different? For example, in Tolkien's first draft, Treebeard was working in the service of Sauron. And Strider? He began as the hobbit Peregrin! And these characters are set in a Middle-Earth that includes a forgotten elvish land named Hollin, a Rohan that is still filled with horse lords – but whom are also working in the service of Sauron, and where Gondor is known as Ond.
As fascinating as this early version of Middle-Earth may sound, there are some aspects of The Return of the Shadow that were a bit much for this reader. For example, in his writing and analysis of his father's work, Christopher Tolkien often repeats words and phrases regarding the story that become more and more laborious as you go along. Also, in some cases he beats a dead horse to the point of absurdity. At one point at the beginning of the third phase of this book, Christopher Tolkien revealed that Odo was no longer going to be part of traveling group and that he would be replaced by Frodo. However, he repeats this revelation three or four times within two or three pages. For someone who gets the point the first time, you do not need to have the same information repeated to you several more times within the span of a few pages.
All things considered, I am glad to have read The Return of the Shadow. While it is an incredibly dense book and while it sometimes dives too deeply for my liking, it is truly a novel that captures the impressive scope and wide-ranging depth of not just Tolkien's Middle-Earth, but the variety of fascinating characters that live within it. If there is a Lord of the Rings fan in your house or in your family and you want to get them a book that they can get lost in for hours, then this book would make the perfect gift.