If you have read this blog for a long time, then you know that I used to make a habit out of reading and reviewing all manner of books. In fact, I posted so many reviews and they were so well-read that publishers and authors would contact me to read their new works and post reviews of them on the blog. Well, years ago a gentleman named Adam Shepard contacted me asking if I would be interested in reviewing his book, One Year Lived. I said yes and then… I promptly did very little to meet that obligation. My apologies, Adam.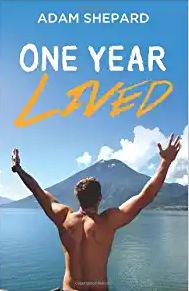 It is not that I did not begin reading the book. Rather, it is that I stopped reading new books and reviewing them on this blog for a number of reasons. However, after rediscovering this book on my Nook a few weeks ago, I recommitted myself to reading it and I am so glad that I did. Years ago, I remember thinking, "What could I possibly get out of this book that is going to be worth the effort?" Years later (now), I am glad to have read a thoughtful, yet fun travel diary prepared by Adam as he spent one year traveling to different parts of the world. What ultimately drew me into the book was the way that Adam told his story as he went from one country to the next. His story is written in a manner of new discovery – finding out about the peculiarities of new cultures through the eyes of someone experiencing them for the first time.
And throughout that discovery is humor. The humor of what happens when you do not speak the same language as the people whose country that you are in, the humor of what happens when you work to speak with your girlfriend's family when they speak a totally different language, the humor of what happens when you lose rock, paper, scissors and have to go knuckle deep in a bull (oh yeah, it happened, people). Mixed with bigger issues like endemic racism and poor economic conditions, Adam manages to bring a lighthearted approach to telling this story. And while not all of the stories are uplifting (the story about how Adam quit on his basketball trainer Jack, for example), they tend to convey larger lessons to the reader.
Some of the highlights that I made while reading the book include: Adam's walking through the Mayan ruins and thinking, "Eh, these are satisfactory," is kind of what I think my reaction would be; recognizing that the poor kids that he was helping did not view their lot in life as impoverished, but rather that they were just having fun and going about their daily business; the frightening issue that Adam ran into with his passport in Honduras (this would be my nightmare); the bullfighting in Nicaragua (crazy); visiting with Flora Herras; noticing the racist signals in a house in Australia; meeting Raf in the Philippines (this was one of my favorite stories in the book, honestly, since I often work with folks that I only know as names on a screen); and the awe-inspiring power of walking through Auschwitz.
As someone who has done a lot of traveling (domestically, admittedly) and engaged in a great deal of charity and volunteer work, I appreciated one of the comments that Adam made towards the end of the book. He notes that he did not go on this trip to meet himself and he was happy before he left on his first leg of the journey. And he did not go on this trip to become more fulfilled or to become more mature. Rather, he just wanted to explore, to investigate, to see the world for himself. That is a great takeaway for anyone who is wondering why they should go out and try something new – not because you are going to grow or change or become the master of a new skill, but rather to go out there to live life. I love it.
In terms of criticisms for the book, my only real criticism is not of the book, but rather the circumstances that most young people find themselves in today when they approach the age that Adam was when he took off on this journey. Somewhere in the book, Adam notes that he graduated from college debt-free (putting aside any other debts that Adam incurred, which he discusses) and I think that is a key distinction in his ability to make this trip versus many of the young people graduating from college today (or who have graduated in recent years). With student loan debt so high, there is likely a generation of individuals who just cannot afford to make this type of investment in cultural exploration. Lord knows that I could not have afforded to do this type of trip at that age (even though I am more than making up for it now in my travels across the country) and I wonder how many people could make this type of journey while saddled with significant student loan debt. Not many, I imagine. Adam does, however, give a bit of insight into how he was able to put the money aside for making this trip (essentially, be frugal).
Oh, and the most fulfilling part of the book came after reading it, when I went to Adam's website and stumbled across the fact that he did, in fact, get the girl in the long-run. What an awesome postscript to a fun travel diary. If you're looking for something fun that weaves humor with discovery with a journey around the world, then give One Year Lived a try. I think you will enjoy it as much as I did!