This past Christmas season was filled with a lot of unhappy, unpleasant activities for me. At some point, I may write about my 23-year-old student from the fraternity who was hit by a van and ultimately died about a week before Christmas. It was very tragic and my heart broke for his family having to deal with the loss of a young son so close to the holidays. As you might imagine, I spent as much time as I could with the undergraduates that I advise in the fraternity in an effort to help them get through the loss of their friend and brother. It was a very difficult time and, again, I might write about that at some point in the future.
In the middle of this student's final services – which were held on Christmas Eve – my Mother called me in tears to tell me that she had to put down one of our dogs that morning. Folks, if you ever find yourself wondering how to make a bad day even worse, then find out that a family pet was just put down while you're at a young person's funeral (in the cemetery, actually). Before this dog – Odie – had to be put to sleep, my Mom had three dogs. But this dog was absolutely "my" dog even though he lived with my Mom. I rescued him from the Monmouth County SPCA several years ago and he never forgot that I saved him from the shelter. Whenever I would go home to my Mom's house, Odie would get up and come over and sit by me no matter who else was around or whatever else was going on.
It's a very sad thing to lose a family pet – especially one that was as loved and loving as Odie was to our family. I remember when I first saw Odie at the shelter. Earlier that day I looked online at the Monmouth SPCA website and noticed that they had a pug available for adoption. My Mom had been talking about getting another pug and finding one in an animal shelter is extremely rare, so I went over to the shelter and walked around for a while, but couldn't find the pug. Just when I was getting ready to leave, I went down a hallway that appeared to be infrequently used and amid the stacks and stacks of empty cages, there was a note on a cage in the corner of the hallway. The note said "Pug – Odie" and I bent down to look in to see what was in the cage. Lo and behold, there was Odie – skinny as could be and a miserable looking thing. He glanced up at me with the most pathetic, miserable, desperately sad look that you've ever seen and then put his head back down.
Seeing an animal like that will break your heart on the spot.
I got up and walked out of the hallway, went to my car, started it up, and drove away. After about 3 minutes of driving, I frantically got on my cell phone and called the SPCA to ask if anyone had adopted that pug yet (remember – I was there 3 minutes earlier… who is going to adopt a dog in a nearly-forgotten hallway that quickly?!). They said no and I told them that this pug was MY dog and I didn't want anyone adopting him besides me. They said okay, but that I had to come back and fill out the paperwork and pay the required fees. I told them no problem and to wait for me. I finished the short drive home, picked up some stuff, turned around, and went back to adopt Odie.
When I went back to the SPCA, they allowed me to sit in the same room as the dog to see if we were compatible. I remember sitting on the floor in a kitchen-like area as someone brought Odie in and left him on the other side of the room. The dog sort of looked at me and I sort of looked at him. I tapped my fingers on the ground and Odie looked at my fingers and slowly started walking over. When he finally reached me I opened my hand with my palm facing up and he sniffed my hand. Odie must have approved of what he smelled because he allowed me to pet his head, his neck, and his back. After a short while, he sat down in front of me and really enjoyed the petting that he was getting.
Overall, this went on for about ten or fifteen minutes until the caretaker came back and had to take Odie away. I went to the front desk, filled out the paperwork, paid the fees, and was told that I had to wait several days for my dog to be neutered.
Over the next few days I went out and bought all of the doggy accessories that new owners typically get: a brand-new brown collar with a matching brand-new brown leash, a retractable leash (an expensive one because my dog was going to have the best stuff available), doggy toys, treats, dog food, etc.
I picked Odie up from the Monmouth County SPCA on Friday, August 24, 2007 – the beginning of a week and a half-long vacation that I had from work. What I remember most about having Odie with me in my apartment on that first day was the way he walked around and cautiously explored everything around him. There was a lot of this going on: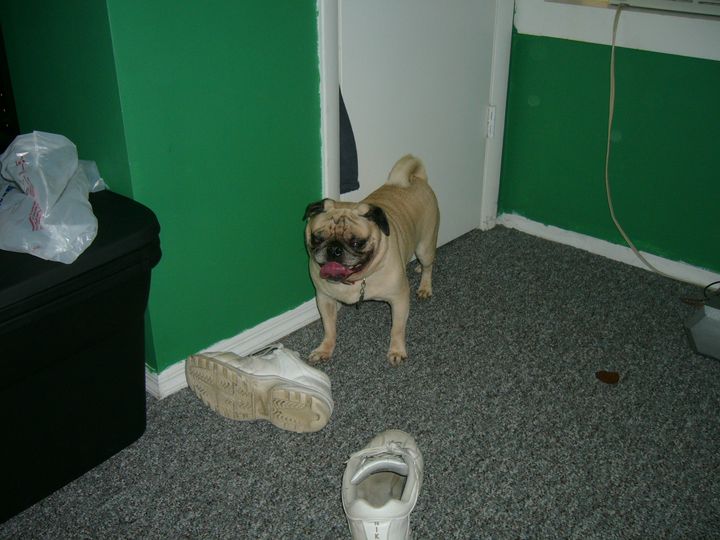 And then that was followed by chewing on a treat:
Which was, of course, followed by some laying around: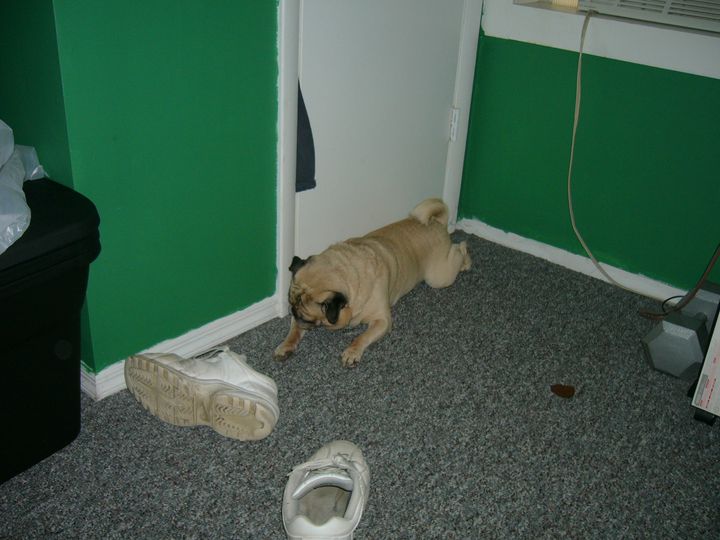 And then came something that I'll always remember. You know, some people say that dogs can't smile; that they're muscles aren't arranged in their faces to allow for a smile. Well, after Odie explored my apartment for a little while and after we sat on the couch and watched some television while I rubbed his back, it was time for dinner. I know that the shelters feed these dogs dry food for a number of reasons including that it is cheaper and easier to manage. For his first meal at my apartment, Odie ate wet food for what must have been the first time in ages.
He went insane after dinner.
Odie ran around my apartment like a wild dog. He was running anywhere he could find space to run. I've never seen a dog so happy. He wouldn't stop running back and forth even when I called his name. After letting him run around for a while, I yelled out, "Hey! Odie! What's up, buddy?!" Odie then slowed down a bit and ran over to the coffee table in front of me as I sat on the couch. I was able to snap this picture when he stopped in front of the coffee table: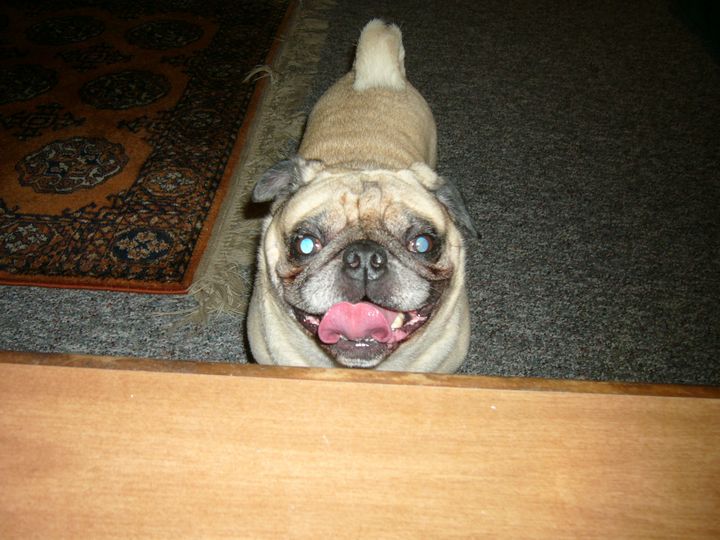 Now don't tell me that dogs can't smile!
The rest of the week was filled with Odie being a happy, happy dog. He slept with me in my bed down by my feet. He even managed to sneak under the sheet one night (it was summer so I wasn't using a blanket – just a sheet). I remember the morning after he slept under the sheet, I wondered where he went. I picked up the sheet as I was laying there and I saw Odie, eyes wide open, looking right at me. Once he saw that I was awake, he pretty much army-crawled up to my face to give it a good morning lick. This was a grateful, happy dog! Here are some more pictures from that first week with Odie in the apartment: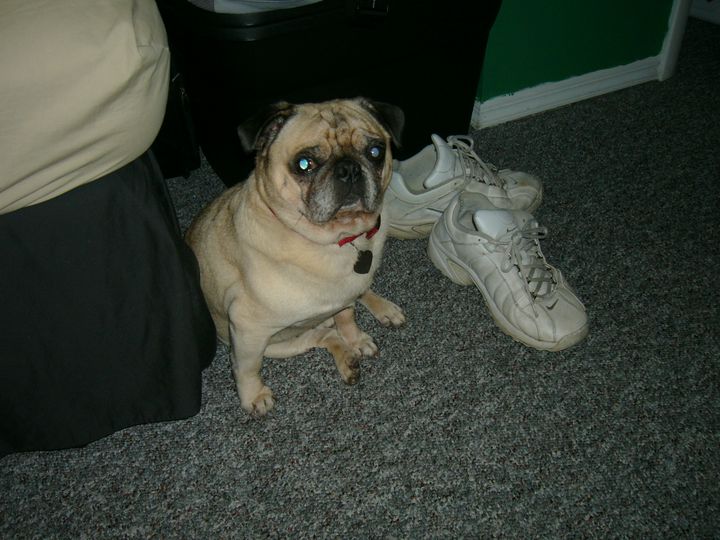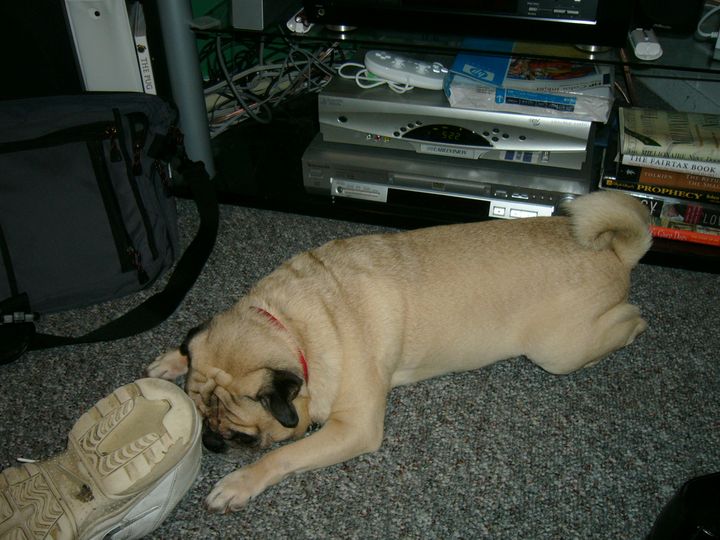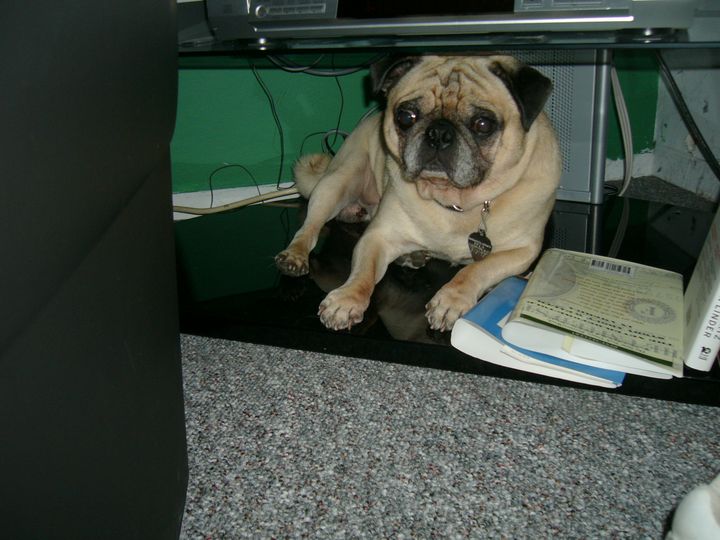 Sometimes, Odie would like to go into small spaces and lay down. Wherever Odie came from before he wound up at the Monmouth County SPCA, he was definitely well-trained to stay in a crate or a cage. He loved going into tight spaces like you see in that last picture above.
On Thursday, August 30, 2007 I brought Odie to my Mom's house to see how he interacted with her pug. There wasn't much interaction, really. The other pug, Yoda, is your typically pug who just sort of rolls with the punches. Odie was a little leery about being in a new place and walking around a new house, but I was there with him so he was okay with it. My Mom got used to Odie and after spending a few hours up there, I managed to sneak away while Odie was preoccupied with eating dinner or while someone in my family was petting him.
That was a tough drive back to my apartment, but I knew that staying with my Mom was the best thing for Odie. Over at my Mother's house, my Mom and my younger brother bonded to the little guy relatively quickly. From a dog's perspective, my younger brother and I must have a similar human scent because Odie took to my younger brother. I remember going back up to visit and watching as Odie would bark and get aggravated when my younger brother would leave the living room, go outside, or go into his bedroom with the door closed. Odie loved companionship and he got annoyed when someone that he liked wasn't nearby.
Odie was a bag of bones when I picked him up from the shelter, but he gained weight in no time as he became a healthy, happy, well-loved member of the family. Here are some pictures of him in chronological order from late 2007 to late 2011: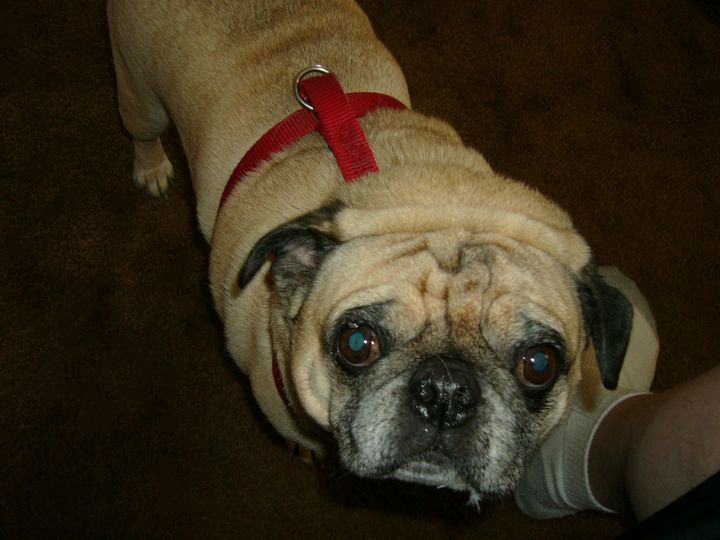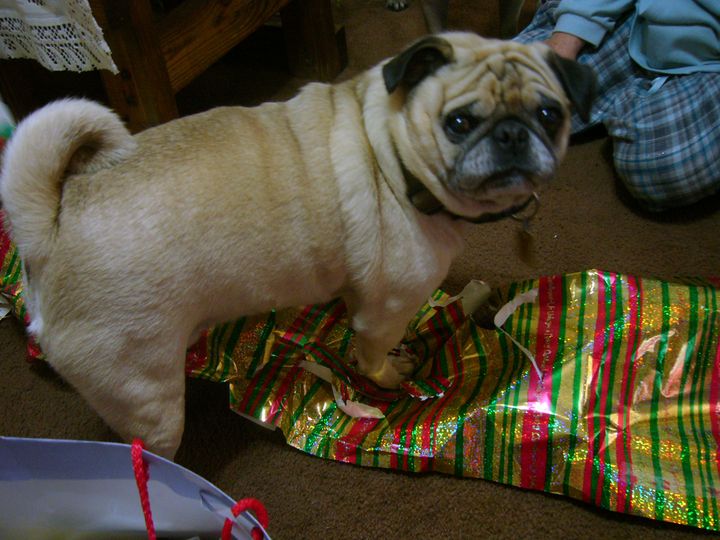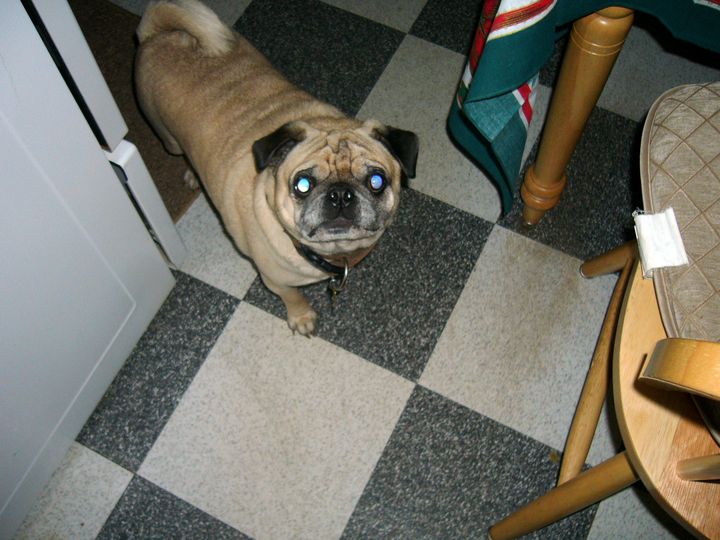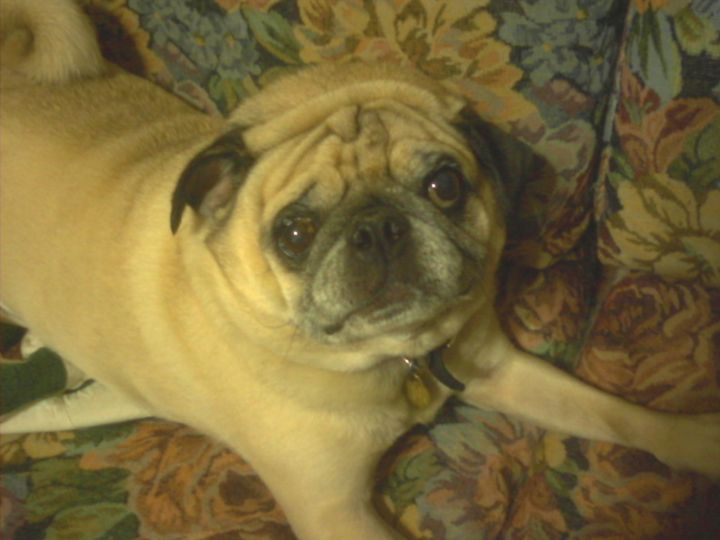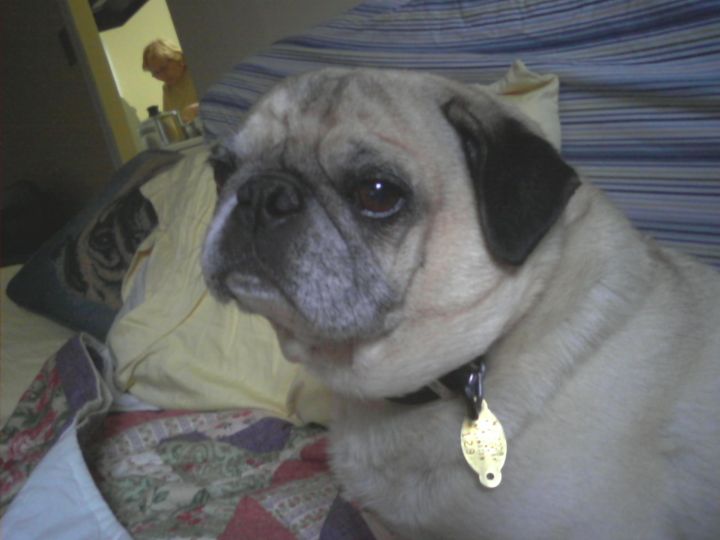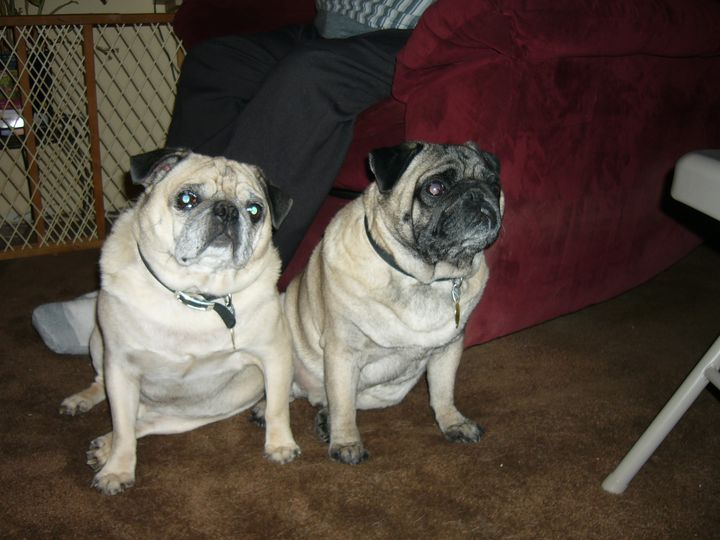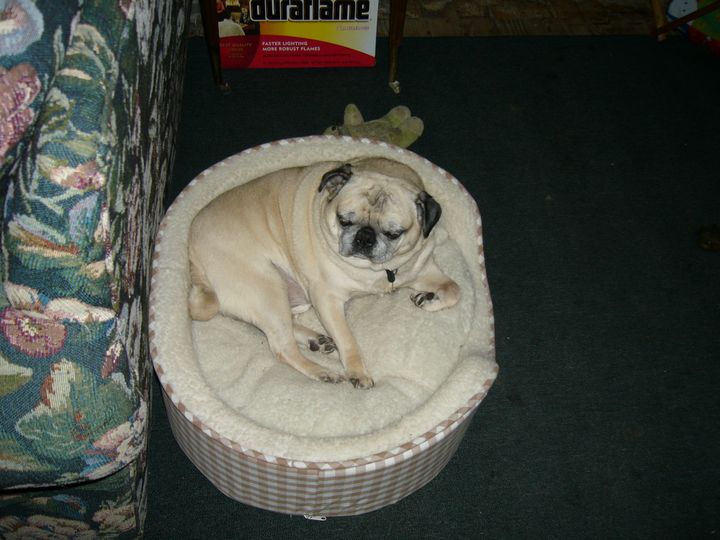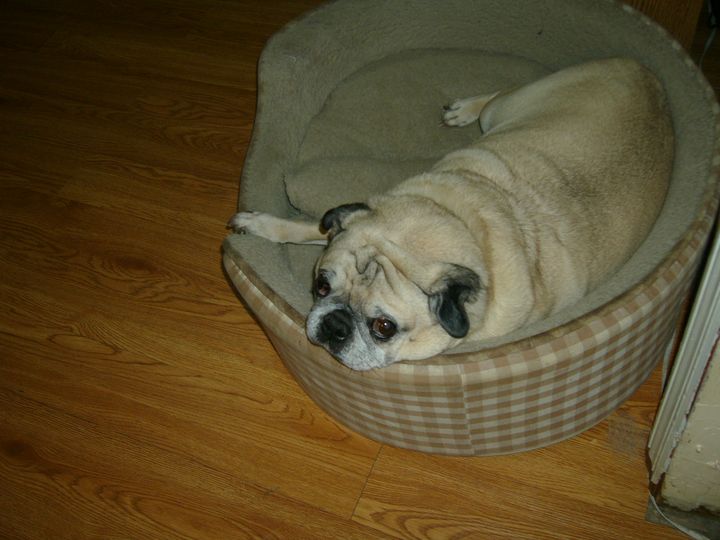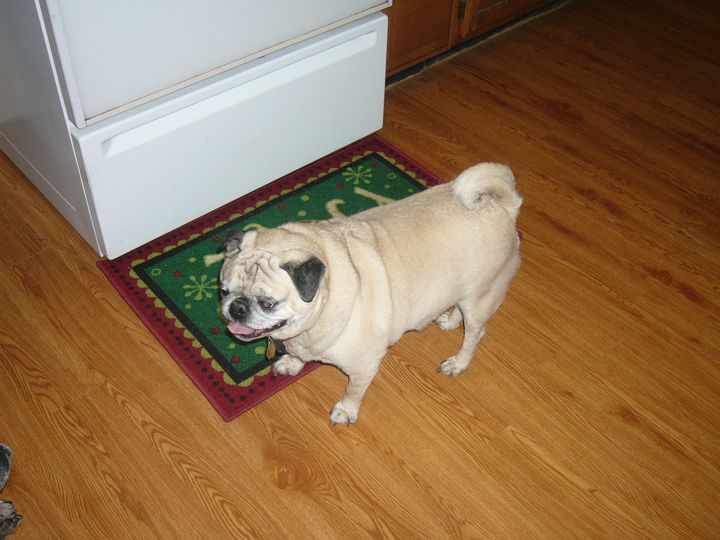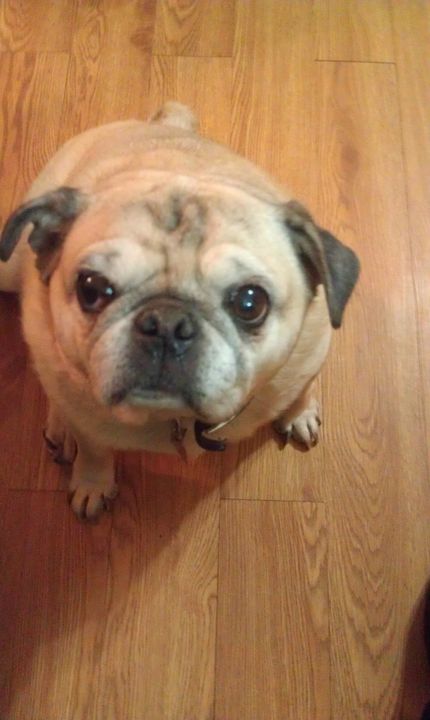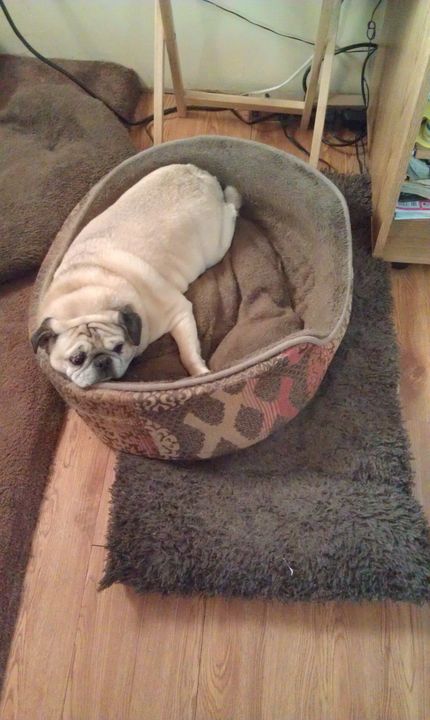 No matter how many months or years went by, whenever I went back to my Mom's house Odie would come over to me. It didn't matter if it was Christmas and there were family and friends visiting or if it was just me and my Mom in the house – Odie would come over and sit down next to me. Just like he did in the kitchen area when I went back to the SPCA to claim him from the shelter back in August 2007. That's what I'll probably remember and miss the most about Odie – his loyalty. That's a hard enough trait to come by in humans and here was a dog that didn't think twice about dropping everything to come sit next to the guy who rescued him from the shelter and gave him a real home for his final years.
This past Thanksgiving we all noticed that Odie was coughing quite a bit. My Mom said he had been doing that since the hurricane knocked out the power to her house for 2 weeks. He went to the vet, but Odie didn't like being bothered with by the vet so the x-rays were mostly inconclusive, though the vet said that the coughing was probably caused by lung cancer. He prescribed a treatment for him in the rare event that it was pneumonia, but that treatment didn't help. Odie didn't have pneumonia. He had lung cancer.
A week or so before he took his final nap, my Mom started Odie on a regiment of steroids. Remarkably, the steroids helped to ease his cough and Odie began eating regular food again. But the easement didn't last long enough. On Christmas Eve, my Mom found Odie in convulsions. My younger brother picked up the entire bed that he was laying in (see the last picture above from a few years ago) and put him in my Mom's car so she could take him to the vet to get help. Incidentally, dogs have a sixth sense about when someone is helpless and needs to be protected. Yoda got in front of Odie's bed and growled at my younger brother and my Mother when they tried to help Odie. He was trying to protect Odie because he was defenseless.
When my Mom arrived at the vet, the vet made it clear that it was time. Odie was given one shot that put him into a deep sleep and that allowed my Mother to give him a last look and see him taking long, deep, peaceful breaths. After that, my Mom went into the waiting area as my younger brother's girlfriend watched the vet give Odie his last shot.
My Mom opted to have Odie cremated; the ashes arrived in a wooden box the other day.
So Odie is gone from this world and, thank God, no longer coughing and in pain from his lung cancer. He was with my family for exactly 5 years and 4 months – not nearly enough time for us to give him all of the love that he deserved, but more than enough time for him to give us every bit of love and appreciation that he had to give. My family and I will miss Odie – he had a great amount of personality and will not be forgotten.
Odie was definitely man's best friend. And even though we are all sad about him no longer being with us, I find something very reassuring in knowing that when my time comes to leave this life, my dog Odie will be there to greet me on the other side. Odie will be without his limp, without his cough, without his pain…
And with his big doggy smile.