That's right, folks, you read the headline of this entry correctly. After 52 months of repayment – beginning way back in July 2006 – my New Jersey Higher Education Student Assistance Authority (NJHESAA) student loan is now fully repaid. And now it's time to celebrate! Well, before the celebration begins, let's take a look at some of the facts and figures around this student loan. Starting with the screenshot of my account balance being listed at $0!

After graduating from Monmouth University in May 2003 and the Bloustein School of Planning and Public Policy at Rutgers University back in May 2006, I earned two powerful degrees: a Bachelor of the Arts Degree in English and a Master of the Arts Degree in Public Policy. However, I also obligated myself to an overwhelming financial anchor in the form of $120,720.46 worth of student loan debt. NJHESAA's share of that anchor was $51,595.27. Believe it or not, I actually tracked how all of that student loan debt was assumed and here's the breakout (the financial figures include both the amount of the loan and the capitalized interest; also, these are my figures and may be a few pennies or a dollar or two off from what the loan company keeps on file).
Freshman Year of College (1999 – 2000):
$7,604.23
Sophomore Year of College (2000 – 2001):
$9,233.47
Junior Year of College (2001 – 2002):
$12,611.89
Summer Session (2002):
$8,693.78
Senior Year of College (2002 – 2003):
$12,941.06
Total NJHESAA Debt at Consolidation (Plus $510.84 Refinancing Fee): $51,595.27
Total Principal Paid During the Life of the Loan: $40,095.00
Total Interest Paid During the Life of the Loan (Includes Capitalized Interest): $24,251.61
Total Fees Paid During the Life of the Loan: $1,893.69
Total Amount Repaid: $66,240.30
I'm compelled to note that the total repayment amount is 165% of the original loan amount. I don't know about your point of view, but the fact that hardworking students and graduates are put in a position to pay 65% over their original loan amount is revolting. What aggravates me the most is that I paid 165% of the original loan amount even though I engaged in an extremely aggressive repayment schedule.
Imagine the folks who can't manage to engage in that type of aggressive repayment schedule. How much is their total repayment as a percentage of the original loan? I shudder to think of it…
Really – you should see this spreadsheet that I put together with all of my student loan debt broken out from each of my loan sources. I sit back and look at the spreadsheet these days and I can't help but comment that the amount of debt I took out to attend both college and graduate school is absolutely remarkable. However (and let me say this again), I'm not some victim nor was I duped into signing these promissory notes. I fully understood that by taking on these student loans I would be fully responsible for repaying them. This is what I wanted and this rapid repayment is what I always planned to accomplish.
But what's even more remarkable is that as of today, that $51,595.27 student loan (plus $14,645.33 in other interest and fees) sits at $0.00. It's amazing. But where does that leave this whole repayment plan that I've been talking about for the better part of the last year? Well, actually… it's over. I specifically created and designed the repayment plan to aggressively repay my NJHESAA student loan and as of today that goal has been achieved.
But there's a new plan in place…
This past summer I began envisioning this very day and thinking about what the next step in the overall repayment of my student loan debt might look like once this day arrived. So yes – I do have another repayment plan that will address my remaining student loan debt to the United States Department of Education (USDOE). However, my relationship with the USDOE has always been excellent. Their customer service folks are friendly and helpful and I'm not charged an interest rate that is borderline criminal. I think that I have a great borrower/lender relationship with the USDOE Direct Loans program and I'm looking forward to continuing to work within that relationship (which, by the way, carries into my professional life as I manage a large USDOE grant for my company).
And the other part about the USDOE Direct Loans Program that I love is how their online payment system doesn't charge any additional fees to make a payment! A borrower logs online, makes a payment, only pays the amount of the payment, and that's it! No additional fees. Period. Much different from the online payment system over at NJHESAA. For almost a year I've been on the USDOE's automatic debit plan where they take an ACH transfer from my checking account each month to make the monthly payment that is due. I'm going to stay on that plan and then make some additional payments here and there to bring down the total amount of principal outstanding on this loan. By the way, if you were wondering how these additional principal pay downs impacted the repayment of the NJHESAA student loan, take a look at this breakout, which covers the entire time during which I engaged in this overpayment – starting from last December through today: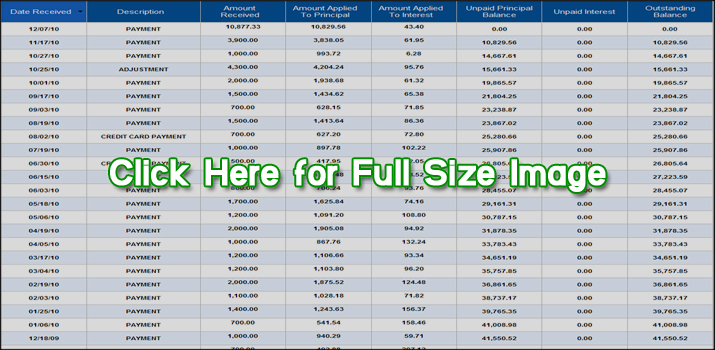 I'm not sure if I'll wind up attacking the USDOE loan – which sits at about $54 thousand outstanding right now (down from a high of $59 thousand) – with the same vigor and hyper-focus that I put into repaying the NJHESAA loan. Over the summer, I drafted my financial goals for 2011 (yes, I draft my financial goals half a year in advance and then I revise them during the months leading into New Year's Day) and among my financial goals for 2011 is to pay $10 thousand in excess of the minimum monthly payment due to the USDOE. And when you consider that I paid more than that to NJHESAA this week alone, it shouldn't be too hard to accomplish that goal!
However, I don't plan on increasing my focus on the USDOE student loan until the end of this coming summer. This doesn't mean that my financial vigilance ends today, though. My mindset today remains the same as it has for years: less spending + reducing debt + more saving + more investments = stronger financial health. In fact, I look at today's victory through the words of the late Senator Ted Kennedy at the Democratic National Convention in August 2008: "The work begins anew. The hope rises again. And the dream lives on."
It feels weird to quote a Senator that I wasn't crazy about from a political party that I'm ambivalent towards, but his words really fit the day.
For those of you who have been following my student loan repayment story on JerseySmarts.com, I thank you for your patronage. If you're coming to this page or to JerseySmarts.com for the first time through a Bing or Google search, then I welcome you to the blog and I hope that you stick around to hear the story of how I repay the remaining $54 thousand that I have outstanding in student loans to the USDOE.
The work begins anew… right now!
In May 2006, I graduated from Rutgers University with a Masters Degree and $120,720 in student loan debt. After completely repaying over $61 thousand in student loans from the federal Perkins loan program, the New Jersey Higher Education Student Assistance Authority, and CitiBank, I currently owe $54 thousand to the United States Department of Education's Direct Loans program. Follow my student loan repayment story on JerseySmarts.com.
__________
Update – December 26, 2010: Hey everyone! I've added some downloadable content to this page. Now you can download a version of the spreadsheet that I used to track my repayment of this NJHESAA student loan. Incidentally, I'm going to use this same spreadsheet to track the repayment of my USDOE loan, too. In addition, I've uploaded a PDF of my official paid-in-full letter from NJHESAA. Oh, and this letter includes the amortization/repayment schedule, too… including a breakout of the $14,645.33 that I paid in interest alone! Feel free to look through this stuff and let me know if you have any questions. Enjoy!
Update – July 30, 2012: Sometimes, I get the urge to revisit some of these older posts. After reviewing this one, I noticed that the student loan breakout was not as clearly attributed as it could have been. So, I revised some of the numbers up above to show the true cost of the loan during its lifetime. The numbers above all "foot" (i.e. equal) the same amount paid to the NJHESAA – $66,240.30. However, with the revisions above I've better described how much of that $66,240.30 was actually principal, how much was capitalized interest or regular interest, and how much was different fees. For those of you who are learning about student loans and financing – capitalized interest is interest that is added to the principal amount of a loan. The interest due on my NJHESAA loan was added to the principal balance at the end of each semester. Anyway, the numbers above are more reflective of what I actually paid to this private loan company.