Not much to say in this post other than a major congratulations goes out to Mike, the winner of NBC's The Biggest Loser Spring 2010 season! Talk about a great story, here is a guy who lost 264 pounds after starting at 526 pounds. That is unbelievable – absolutely amazing. And, in truth, he looks like a completely different person. The picture that I posted below doesn't even do the man justice – he was even skinnier and in better shape during tonight's finale. I'll try to get a picture from tonight's finale uploaded to replace the image below. I'm just baffled at how much weight this man lost. It's really awe-inspiring.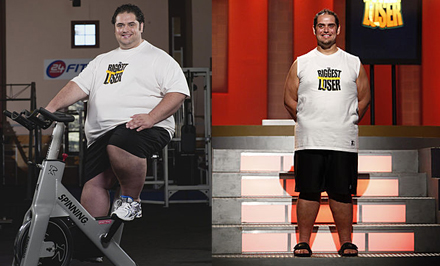 Even though Mike won (and, of course, he was the odds on favorite to win because he was the biggest contestant in show history), Daris has to have undergone the biggest overall transformation. Here's a guy who looked horrible with his ultra curly hair and big fat man boobs, but wound up shedding 168 pounds, running a 26.2 mile marathon in 4 hours, and actually has significant muscle definition in his arms and shoulders. Daris should be extremely proud of himself – he literally transformed his body and his life. Great job!
The same goes for Ashley, who went from a massive girl weighing 374 pounds to a hottie weighing 191 pounds! Amazing! Ashley lost 183 pounds and no one even gave her a chance of winning when the season began. Ashley looked great at the finale, she really did. And you can tell by her attitude and demeanor that she has the drive and spirit to lose another 50 or even 60 pounds. Once again, The Biggest Loser has taken a girl that most guys would walk by without a second look and made her into a stunning woman that will definitely make guys turn their heads. What a transformation.
Tonight's finale should be an inspirational wake up call to everyone who thinks that they can't do it; that they can't lose weight. Just look at O'Neal (lost 153 pounds) and Sunshine (lost 114 pounds) – those two may not have won the big bucks, but they looked absolutely awesome! Side note – I'm a big fan of O'Neal and Sunshine, but O'Neal's sons (Sunshine's brothers) have got to be the biggest fans of their Dad and sister than anyone on the planet! I love when those two guys go crazy whenever they're around their father and sister. It's fun to watch!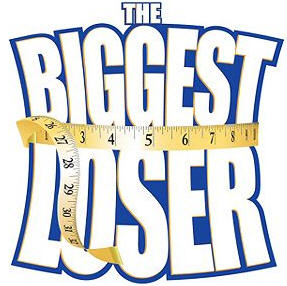 But, back to people looking good during the finale – the same goes for Darrell (lost 189 pounds). That man lost a ton of weight as did Sherry from the pink team. Awesome, awesome transformations. Cheryl looked great, too, but I think that Sam might have been a little bit too cocky for his own good. Same for Koli. But in the end, the two of them looked great after their weight loss transformations – good for them!
And congratulations (again) to Koli for being the at-home winner of The Biggest Loser competition! Not only does he look great and did he rid himself of all of that excess weight, but he takes home $100,000, too. Not so bad!
If I had any issues with tonight's season finale of The Biggest Loser, it was that NBC (and all television networks, really), draw these finale shows out way too long. Thankfully, I started watching the show at 8:30pm and rewound my DVR back the extra half an hour so I could fast forward through the commercials and the extra parts of the show that I've already seen (look, if you've watched the whole season then you've already been through each of the contestants' ups and downs so you don't need to be reminded of them before each weigh-in). Unfortunately, though, I caught up to the real time version of the show relatively quickly – by 9:20pm. So…for the last 40 minutes of the show I had to suffer through the ridiculous commercial breaks. Blech.
Actually, I guess it's not that bad since I was able to write the bulk of this post during the dead time in the last 40 minutes of the show. 🙂 Another complaint – the show ends too quickly in the last few minutes. Why not show 2 – 3 minutes of the post-weigh-in celebration and maybe even had a brief interview with the winner? Why cut straight to a promo for a new show or an upcoming show? Bad move.
Oh, and I hated seeing Melissa and Lance again. Talk about two wretched people. I'm not a fan of that Melissa woman – I just don't like her no matter what she does or says. She's a sneak who thinks that she's getting something over on everyone each time she speaks. Dirty snake. She's the reason why lawyers have bad reputations.
But, once again, a major congratulations goes out to Mike for being this season's The Biggest Loser champion, $250,000 winner, and an amazing inspirational story! Great job!