This entry is being added to Joe's Journal on JerseySmarts.com as part of a larger campaign spearheaded by JerseyBites.com. Today, more than 100 New Jersey-based bloggers will post this information on their blogs – all hoping to spread the word about the need for food donations. If you are a New Jersey-based blogger, please feel free to copy and paste this entry into your own blog and let us know if you do! Thanks!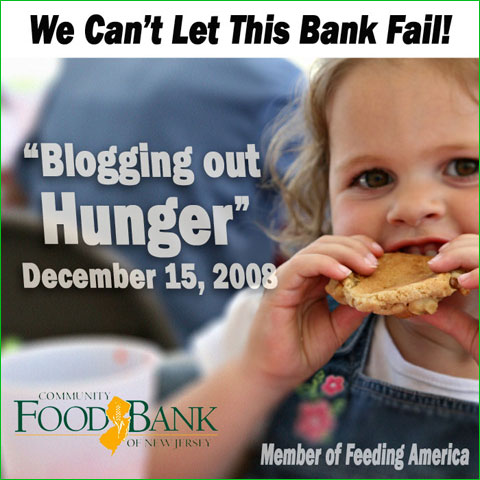 More than 35 million Americans, including 12 million children, either live with or are on the verge of hunger. In New Jersey alone, an estimated 250,000 new clients will be seeking sustenance this year from the state's food banks. But recently, as requests for food assistance have risen, food donations are on the decline, leaving food bank shelves almost empty and hungry families waiting for something to eat.
The situation is dire, no more so than at the Community Food Bank of New Jersey (CFBNJ), the largest food bank in the state, where requests for food have gone up 30 percent, but donations are down by 25 percent. Warehouse shelves that are typically stocked with food are bare and supplies have gotten so low that, for the first time in its 25 year history, the food bank is developing a rationing mechanism.
As the state's key distributor of food to local food banks – serving more than 500,000 people a year and providing assistance to nearly 1,700 non-profits in the state – the stability of replenishment of the CFBNJ is essential to ensuring that individuals in need have access to food.
If everyone could just do a little, it would help those in need a lot. To help, people can:
Make a monetary contribution: Visit www.njfoodbank.org.
Donate food: Drop off a bag of food at your local food pantry.
Organize a food drive: We can help explain the logistics of starting a food drive. Just call 908-355-FOOD.
Help "Check Out Hunger:" Look for the "Check Out Hunger" coupons at your local supermarket and donate. No donation is too small!
One thing that people commonly confuse is the role of the food bank. The CFBNJ is similar to a wholesale distributor, providing food to charities throughout the state, who then give this food directly to the hungry (the food bank does not give food directly to individuals). The food bank also does not accept small amounts of food, such as a cart of groceries. They encourage those donations go directly to a local food pantry or soup kitchen. Rather, the food bank accepts large quantity food donations, such as a truck full of groceries, as well as monetary donations which they stretch to purchase food at wholesale prices, such as 300 pound bags of rice.
Looking for a food pantry in your area of the state? Check out sefan.org to find one near you!
For more information on the Community Food Bank of New Jersey and to read where the statistics above came from, please download the Community Food Bank of New Jersey fact sheet by clicking here.