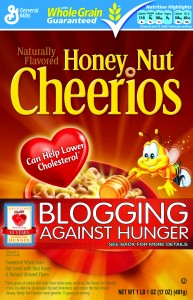 Like I said yesterday, I participated in ShopRite's Bloggers in Caring partnership that focused on spreading the word about hunger. As a part of that promotion, General Mills put out a special edition Honey Nut Cheerios box featuring the Bloggers in Caring partnership. The front cover of the box is to the right. Here is some more information on the Bloggers in Caring partnership:
Every time a customer purchases products with the ShopRite Partners In Caring shelf tag, they support the brands that support the fight against hunger. At ShopRite, customers are not just filling a grocery bag; they are helping to fill empty bowls for thousands of hungry families in your community.

ShopRite Partners In Caring is the Recipient of the Following Awards – among others:

* Good Neighbor Award – Food Marketing Institute (FMI)
* Retailer of the Year Award – America's Second Harvest/Feeding America
* Outstanding Achievement Award – Hudson Valley Food Bank
* Crystal Toque Award – Philadelphia and South Jersey
* Outstanding Spirit Award – Monmouth and Ocean County Food Bank
* Connecticut Food Bank – Bill Liddell Award
* Corporate Excellence Award – Food Bank for New York City

Companies that have joined ShopRite in the fight against hunger are marked in stores with the ShopRite Partners In Caring shelf label. By choosing these products, ShopRite customers support manufacturers who contribute to the program.

Each of the 217 ShopRite stores in the six states that ShopRite serves (New York, New Jersey, Delaware, Pennsylvania, Connecticut and Maryland) selects qualified local organizations to benefit from the program. These local food charities use their designated funds to acquire supplies at a food bank.
The back of the box is below. It looks like the designer used a bunch of head shots of the bloggers that were involved in the campaign and then repeated the images as necessary to get the proper size collage. My head shot appears a few different times on the back cover box art. If you're looking for the easiest image of me to identify, look 8 head shots over right left and one head shot down. I've got a suit jacket and tie on.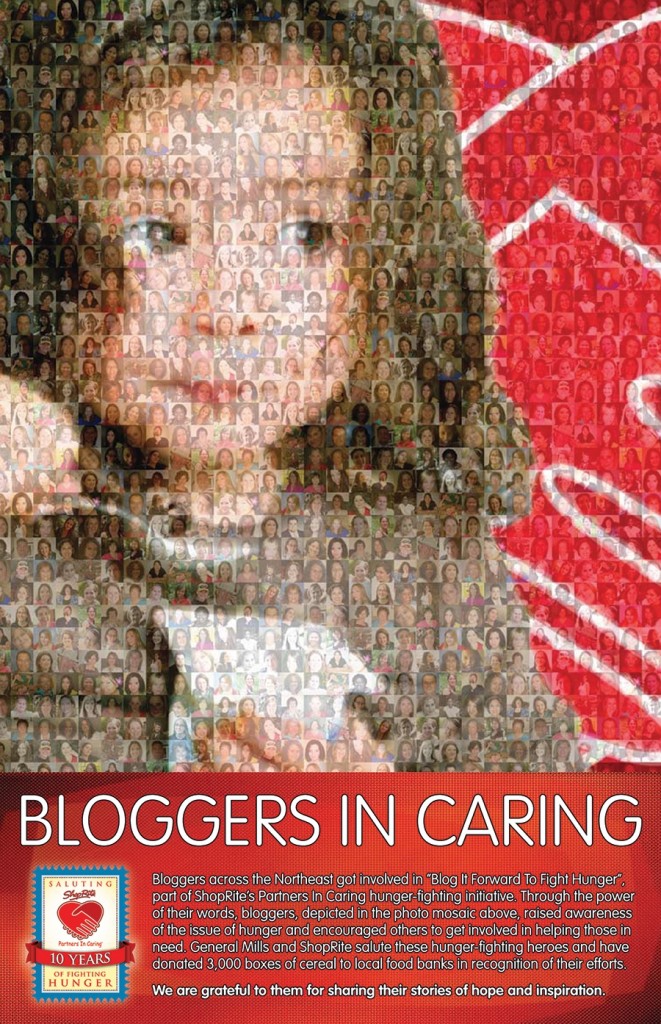 See me? 🙂 I'm a celebrity again now!