Good morning, everyone! No major update today like I had last night, but rather I just thought that I'd note that I'm in the middle of another staycation. When I was preparing for this staycation last week, I wrote down a bunch of items on my "to do" list and I think I've been hitting them in a pretty decent manner. For example, take a look at what I managed to do in bedroom a few days ago…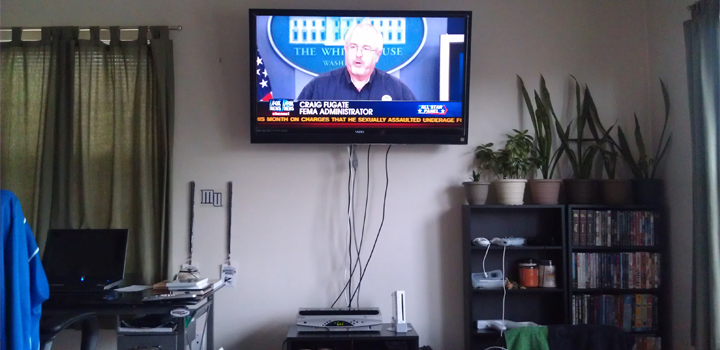 Not bad, huh? I managed to mount my television on the wall in about 30 minutes (might have been more like 40 minutes, but I wasn't keeping track). Anyway, I was pretty impressed with myself for managed to actually make this work! In truth, I should have mounted the television earlier in my stay at my current apartment, but who knew that I would wind up staying in this place for four years (at least four years – which takes me through my current lease)? No worries, though. Now that I know this wall mount thing is so easy to install, I'll be putting this thing up in my new place as soon as I move in (whenever that may be – who knows?).
So that's one item on the "to do" list down and about 30 or so items left to go. That might sound like a lot of stuff to do, but it'll be a big relief once all of these random things are finally done and completed. Is there a better feeling than getting a bunch of random "to do" items off of your back while still being able to relax and enjoy yourself for some 11 days away from the office? I don't think so!