Last night was the live finale of The Biggest Loser on NBC and the show's content did not disappoint. Jerry, the oldest ever contestant on the show, won $100,000 for the "at home" prize and Helen, a 48 year old mother, won the $250,000 prize for being this season's biggest loser. Helen had a remarkable transformation from a big 257 pounds down to a skinny 117 pounds. It was amazing. Look at Helen's before and after pictures: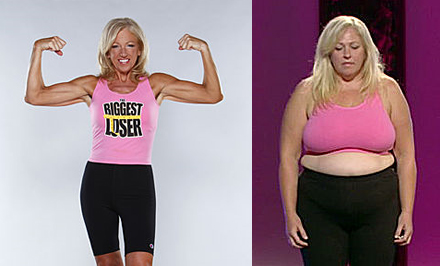 Last night's live finale gave hope and inspiration to all of those people who feel that they have been "categorized" into not losing weight. In other words, those people who feel that they cannot lose weight because they are too old or are within a certain age range for a certain gender see now that it can be done. Jerry is 64 years old for goodness sake!
My only gripe with the finale was that it was too long. A three hour finale is completely unnecessary. The entire show could fit into a 90 minute show, which would be nice since there could either be a 30 minute pre-show or a 30 minute post-show. But NBC relies so strictly on the results it gets from audience testing that it completely misses how to put on a television production that makes viewers comfortable while watching the show. Sure, people tuned into the finale to see who was going to win, but the truth is that watching any NBC show is horrible because of the crappy timing and pacing of their shows.
| | |
| --- | --- |
| | For those of you who are looking for even more commentary presented from a unique New Jersey point of view, be sure to follow JerseySmarts.com on Twitter @JVince81. Also, sign-up for our quarterly newsletter by using the sign-up form in the box to the left. The newsletter is sent four times each year to provide links to just a few of the top stories that you might have missed. That's it – there's no random sales pitch and we do not sell our mailing list to any third party advertising companies. The only updates you will ever receive are from JerseySmarts.com with links to the latest updates from this site. That's it. Period. |
Anyway, congratulations to Helen and Jerry as well as everyone who lost a ton of weight. Mike's (the 18-year-old kid) transformation is also an amazing story. I'm happy for him and I hope that he sticks to a good diet and workout regime because he can now be healthy for the rest of his life.