One hundred years ago today, Sigma Pi Fraternity published Volume II, Number 1 of The Emerald magazine. You can see the simple yet elegant cover of that one hundred year-old issue below. I believe that looking back at what was printed in The Emerald one hundred years ago helps bring some of the current conversations in the Greek world into a more focused perspective.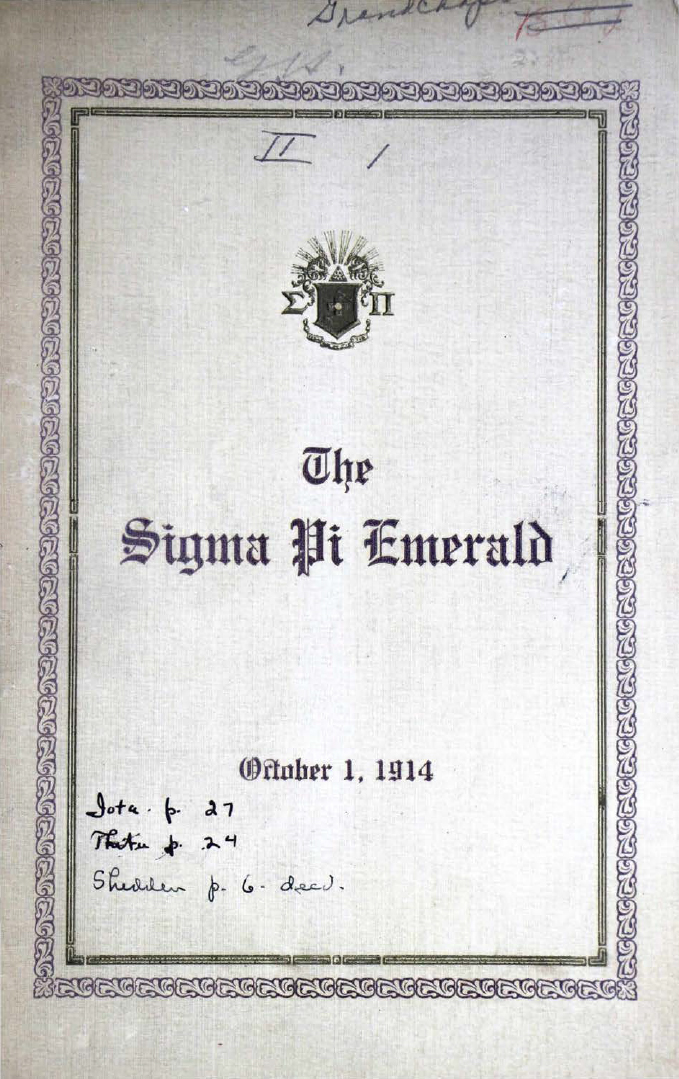 The first thing that strikes me when I look at the one hundred year-old magazine is that the gentlemen who operated the Fraternity in 1914 had the foresight to charge a subscription fee! At the bottom of the cover page is a note that reads: "Subscription rates $1.00 per year in advance." Over the years I've sat in on many conversations regarding the cost of producing The Emerald. Whenever the idea of charging a small annual fee for the magazine is brought up, it is shot down. Some argue that we promised our members that we wouldn't charge them a subscription fee and others say that no one would pay it. Regardless of why we select not to charge a small subscription fee today, the initial operators of this fraternity were not afraid to charge each member a dollar for the privilege of receiving the national magazine.
The next thing that strikes me about The Emerald is that they list the house address and contact information for every single chapter of Sigma Pi right in the beginning of the magazine. Of course, there were only 9 active chapters back then, but it's still a nice touch!
The Emerald begins to show some meat when we get to the Foreward. This line strikes me as relevant in the anti-fraternity, anti-male environment that many of our chapters operate in today: "It is our earnest wish that The Emerald may be effective in espousing the cause of the College Fraternity in general and of Sigma Pi in particular…" I wish that this was still a core focus area for our national organization. Sigma Pi Fraternity – and no national fraternity, for that matter – no longer makes it a basic cause to promote the virtues of college fraternity membership. Further and more specific to Sigma Pi, we do not do a good job of promoting our undergraduates' incredible successes in mediums that have lasting cache. In other words, while we might tweet a congratulatory note or post an update on Facebook noting a job well done, we do not use our publications as methods of publicly promoting the many good works that are intrinsic to fraternity life. From time to time we print stories about successful Sigma Pi alumni in our national magazine, but we don't take those stories to the masses. We don't utilize our Fraternity-owned web assets (we have six different, official Sigma Pi blogs) as methods of regularly promoting the great value of membership in our fraternity. Do we promote the value of being a Sigma Pi or a member of a Greek organization every once in a while? Sure. Do we use these assets to promote Sigma Pi and Greek Life on a consistent, regular basis? No.
The mindset of the early members of our Fraternity was that of dealing from a position of strength. They didn't cower or bend at the first anti-fraternity accusation hurled in their direction. No! Instead, they believed that Sigma Pi "fills a distinct want and supplies the requirements of a definite need in the lives of our college boys." This line from The Emerald comes from an editorial that was reprinted in the magazine and talked about the great success of a young Sigma Pi Fraternity as it worked to grow a strong reputation in the Greek world. I was struck by this short editorial because it speaks unabashedly about the virtue of fraternity membership. There is no silent apology or tone of regret that we even exist! One hundred years ago, fraternity men didn't apologize for being men, for being masculine, or for recognizing the value of mentoring and one-on-one personal development that takes place within the walls of a chapter house.
Today the fraternity world throws its collective hands in the air and says, "We can't win!" when a grossly biased editorial or disgustingly negative article is written about us. There is no innate belief that we should vocally and/or forcefully stand up against attacks on our very existence. In place of that belief, we've promoted policies of placation to the loudest, angriest voices.
It's shameful.
Some other random points that I picked up in this issue of The Emerald:
Did you know that the Fraternity voted to implement a
National Memorial Day of Sigma Pi
on the first Sunday of May each year?
The Emerald
says that
"on this day each man should wear a small piece of crêpe under his pin, and services will be held in all Chapter houses of the Fraternity, honoring the beloved dead."
Seems like a nice tradition that we've forgotten and should reinstitute.
Province Archon visits to their chapters used to be paid for by the "Grand Treasury" and if they couldn't afford it, then the province would have to chip in for the cost of the visit. Of course, this was before the traveling consultant program was implemented, so Province Archons must have provided the bulk of on-site training to the undergraduates.
At the Fourth Biennial Convocation it was decided that "the proper place for the badge of the Fraternity… is directly over the heart." Just in case any of you were wondering – that's what was decided by the first members of Sigma Pi!
There is an article titled On Solid Ground that includes a line which I believe is a forerunner of Sigma Pi Fraternity's current ACE Project program. That line is, "fraternities are interested in and working for the aggrandizement of their alma mater and not for the purpose of exalting the fraternity above the college as a whole." How about that? The spirit of the ACE Project uncovered one hundred years ago in our national magazine! Of course, I'm not sure if these words were actually written by a Sigma Pi brother (if I had to guess, I would say that they were not written by a Sigma Pi, but instead included as a larger report that was reprinted in The Emerald), but it's still pretty impressive that the spirit of the ACE Project was promoted by Sigma Pi Fraternity before any of us were even born.
A final comment from Volume II, Number 1 of The Emerald that seems relevant to what many of us face in today's anti-masculinity, anti-fraternity student life environment. There is a line in the magazine that says: "It is our conviction that when we trim the situation down to the psychology of the matter we have before us merely the battle of the 'outs' against the 'ins'; that it is, in short, simple, common, every day, human nature." The core of this statement is the possession of an inner knowledge that we should all have as members of Sigma Pi Fraternity. And that knowledge is that we are going to be attacked by those on the outside simply because they're on the outside looking in. Undergraduates have many hokey sayings about fraternity life – one of which is that from the outside looking in, you can never understand it, but from the inside looking out, you can never explain it.
That is the position that we find ourselves in today.
The vocal, anti-male minority that uses the biased media to publish negative outlooks on the future of fraternities are nothing more than those same "outs." And they're angry for many reasons, not the least of which is the life of pseudo-intellectual privilege that they've bastardized since the cultural revolution of the 1960s. That revolution promoted transparency above all else as it relates to large institutions. And the calls for transparency mostly took place on college campuses. But on those same campuses we – as fraternity men – sit in the face of that transparency. We are members of a private boys' club which irritates those "outs" because they don't know what we "ins" know. What they have are anecdotal accounts of the worst elements of fraternity life that they desperately try to explode into vast generalizations to define all of us. And what do we have as a response? One hundred years ago, the first brothers of Sigma Pi Fraternity would have brushed off the accusations of the "outs" by publicly ridiculing the use of extreme examples to define the whole. Fast forward to today and instead of calling out extremists and zealots, we've been reduced to taking personal offense to negative comments from the "outs" when we should be hitting them back even harder.
In one hundred years' time, Greek leaders have gone from a group of men who took pride in openly promoting the virtues of fraternity membership to a group of men who mostly walk in lockstep with a student life industry that is more concerned with extricating itself from any risks or any possible offenses than it is concerned with introducing college students to scientific, biological reality.
I hope that Sigma Pi can lead the way for the Greek world and turn the tide back in the direction of being inherently proud of fraternity membership… and soon.