Alright, look – even though I'm a bigger guy, I eat some pretty good food. Would you believe that it's been about a decade since I've eaten fast food like McDonald's and Burger King and just about a decade since I've even had a sip of soda? Pretty remarkable, huh? One of the reasons why I don't bother eating this type of gross, fake food any more is because I discovered organic food. Yes, organic foods costs just a little bit more, but when you drink a glass of organic milk and really taste the milk again you'll know that it was worth the few extra dollars.
Aside from discovering organic food, I try to make my own breakfast, lunch, and dinner when I have a chance. On that note, I make a pretty delicious oatmeal and berry breakfast. The pictures below detail my making an oatmeal and berry breakfast a few weeks ago. Incidentally, the oatmeal used here is Bob's Red Mill organic rolled oats mixed with two tablespoons each of Bob's Red Mill organic ground flaxseed meal and Bob's Red Mill organic wheat germ. I like Bob's Red Mill products. The berries are also organic from the produce section of the local Wegmans grocery store.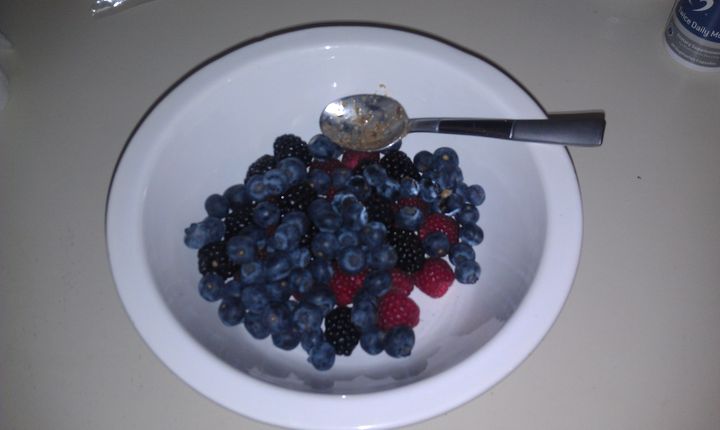 This isn't a step-by-step guide to how to make my delicious oatmeal and berry breakfast, but I thought I would take some pictures and show everyone what I do every once in a while to make this delicious meal. The picture above shows the berries mixed together in a large bowl. I just leave them in the bowl until I'm ready to pour the cooked oatmeal on top. In addition to the blueberries, blackberries, and raspberries that you see above, sometimes throw in sliced strawberries, too.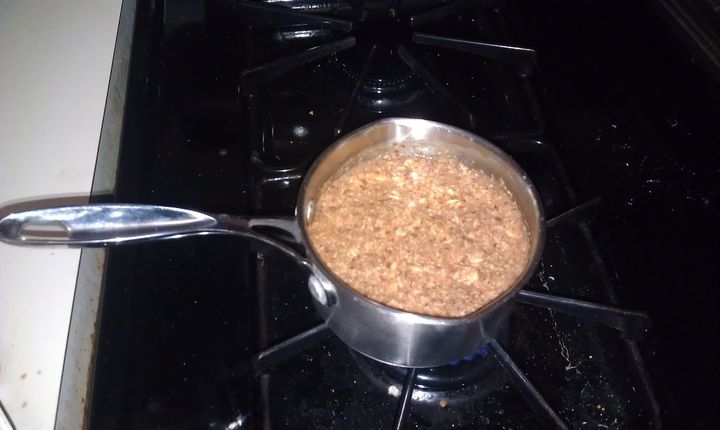 I actually went out and bought this small sauce pot because I didn't want to make my oatmeal in the small T-Fal pots that I have in my kitchen. I hate when that T-Fal stuff starts to chip and get mixed in with the food. Gross. So I went to Wegmans and purchased that little stainless steel pot that you see in the picture above. Inside that pot is one cup of water (filtered through the PUR filter on my sink faucet), a half a cup of Bob's Red Mill organic rolled oats, two tablespoons of Bob's Red Mill organic ground flaxseed meal, two tablespoons of Bob's Red Mill organic wheat germ, a teaspoon of organic cinnamon (I've been using Simply Organic cinnamon and it has a very good taste), and a few twists of freshly crushed sea salt from the container (nothing more than a teaspoon). Once the water boils, I pour the rest of the ingredients in at one time and then bring the temperature down to mid or low.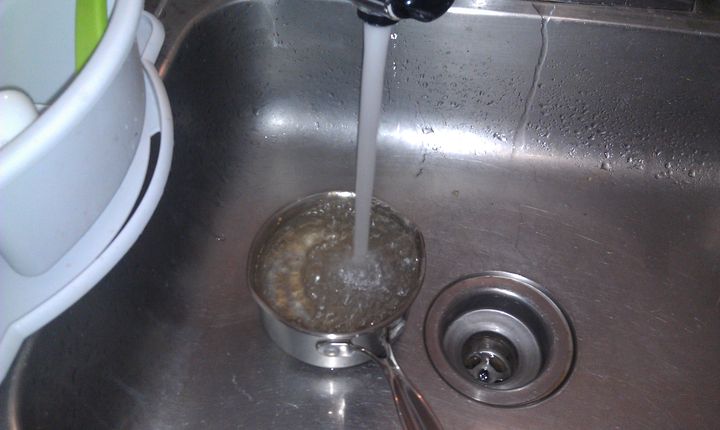 After the oatmeal is done cooking, I dump it on top of the berries (picture down below), but I'm a huge stickler for keeping a clean kitchen! So once the oatmeal is poured and, on occasion, scraped out of the stainless steel pot, the pot goes right into the sink with hot water in it!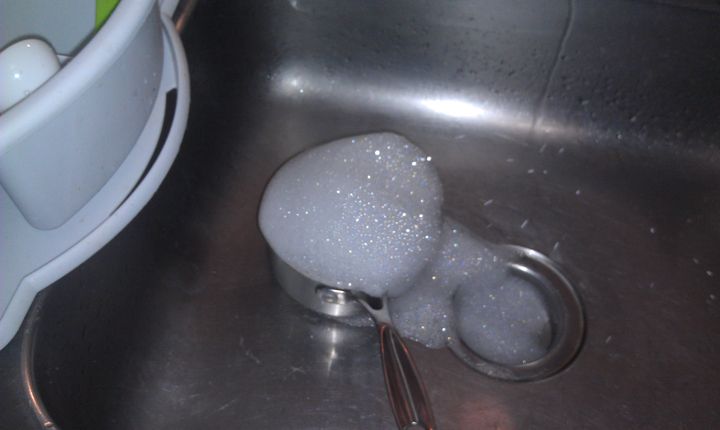 And you're wasting your time if you don't put some dish soap in with that hot water. As you eat your breakfast, the hot water and dish soap will eat into any bit of the oatmeal that is clinging to your stainless steel pot like its life depending on it (which, in some ways, I guess it does).
You're supposed to clean everything! Can you tell how anal I am about keeping a clean kitchen (especially when you cook breakfast)? Here you see my measuring cup and the measuring spoons that I use to measure out my ingredients.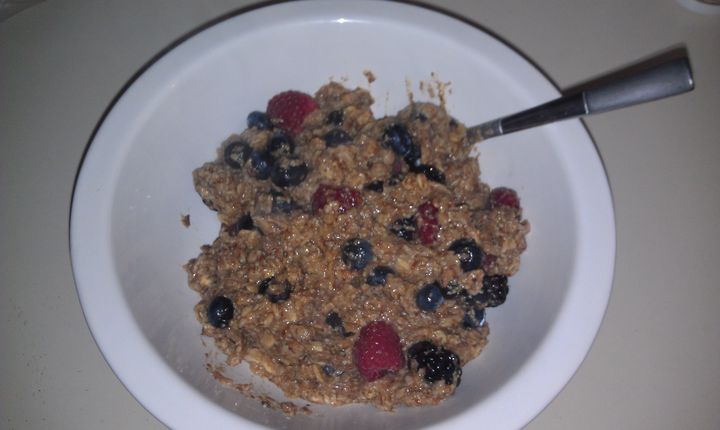 Ahhh… then you have the coup de grâce of the entire effort. This is what the delicious finished product looks like after the berries are mixed into the oatmeal. I'm telling you – if you like berries, oatmeal, and cinnamon, then this is what you want to eat in the morning. Trust me.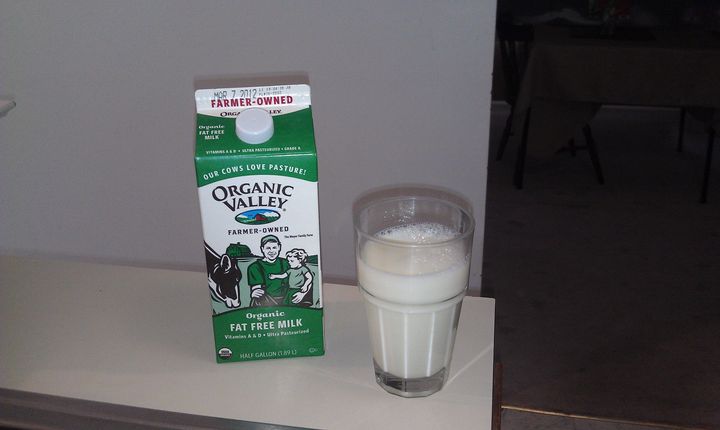 Oh, and I usually drink a nice glass of organic milk with my oatmeal and berries. I like Organic Valley's fat free milk. Very tasty.
And there you have it! This is what I try to eat at least once per week or more often if I have the time to make it. It's energizing, healthy, and most importantly – it's delicious!