You knew this one was coming. A few weeks ago Susan Boyle broke onto the world stage and became an overnight internet sensation. She charmed the masses with her Plain Jane look and her powerful, angelic singing voice. Ms. Boyle presented the perfect combination of simplicity and talent that literally took the entire developed world by storm.
And now they've given her a makeover, damn it (take a look after the jump).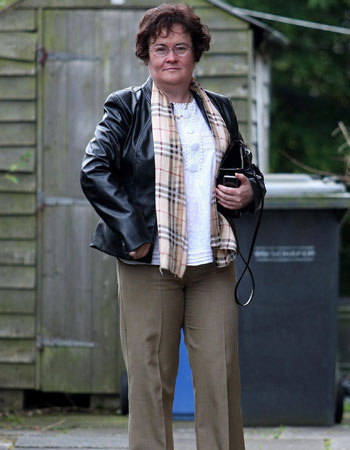 Look at what they've done to her! Ms. Boyle has gone from the charity worker living in a small village in Scotland to the fashionable mother who gets her "tea" at the fancy eat-ins and attends wine and cheese tasting events in her spare time. She's wearing a Burberry scarf for Heaven's Sake! Do you think anyone in her village wears Burberry? And is that a leather jacket? Good grief…
Sure, Ms. Boyle didn't appear to be a "superstar" when she appeared on Britain's Got Talent, but it was that lack of that typical image that actually made her a superstar. Here's hoping that even though she's received a makeover, she retains that village charm that made the whole world forget about their problems – even if for just a few minutes – and root her on.