Yesterday, I wrote about how I thought that this winter storm was going to be a bit of a pushover, but apparently I was slightly mistaken. The storm dropped almost a foot of snow (so far) here in Tinton Falls in Monmouth County. One of my roommates had to go to work anyway, so I took a picture of him digging his truck out of the snow (below).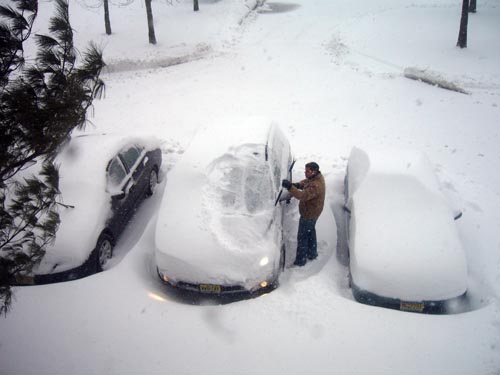 As you can see, as of about 10:30am this morning, the township hadn't even begun plowing the streets. It's pretty bad out there, but not so bad that I wasn't able to dig my car out of the snow (you can see my car in the picture above on the right – it's completely covered in snow).
So for those of you traveling around out there remember to be careful. It's also probably worth thinking twice about whether or not you really need to be out on the road today, too.